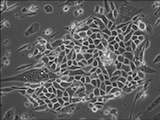 About 2 million patients worldwide suffer from burns and many of them require skin grafts. Furthermore, a skin substitute is required in about 20% of severely burned patients. Many studies have described the protocol for obtaining artificial skin from biopsies and nowadays artificial skin produced under GMP conditions is a validated clinical application for burn patients.
The Euroclone R&D laboratory for Regenerative Medicine is active in "the skin project" in collaboration with different groups throughout Europe (Italy, Switzerland, France) that work with tissues and cells for producing autologous skin. SwissMedic completed the validation of a GMP process at the Centre de Production Cellulaire (CPC-CHUV - Lausanne), where six ISOCell PRO units are installed. By achieving this goal, EuroClone's ISOCell PRO has become the first isolator recognized as being part of a fully validated process to produce artificial tissues to be used in human therapy.
The CPC-CHUV – Lausanne, in compliance with GMP, produces tissues and cells necessary for treating burn patients, ensuring the production of autologous skin (the patient is the donor and the recipient of its own cells). With these treatments, CHUV is a center of reference at a National, European and International level for the care of burn patients.
---